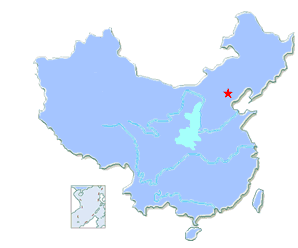 Xi'an is the capital of the Shaanxi Province.  It has a wealth of history and is one of the homes of China's ancient civilization.  Several popular attractions include, the Mausoleum of the First Emperor of the Qin Dynasty (221-206BC), Qin Terra-Cotta Warriors and Horses, the Great Wall, Xi'an City Gate and Wall, The Big Wild Goose Pagoda, the Banpo Museum, Huashan Mountain, Zhongnan Mountain, Taibai Mountain, and the Hukou Waterfall.  Of  the three cities we visited, this was one our favorites.
Before arriving in Xi'an, we were told that it was the city that represented China's past.  We created images in our minds of dirt roads, older buildings with traditional Chinese architecture and a more rural area with many farmlands.  After an hour flight, we arrived in Xi'an to find that it was not to that extreme at all.  Xi'an has a great mixture of old and new with visible signs of the past as well as the present and future of China.  The temperature there was much warmer than Beijing.  This was why we liked this city most.  The people we met there were friendly, welcoming and the students wanted to learn from us as well.
We were fortunate to visit the Qin Terra-Cotta Warriors and Horses, Xi'an City Gate and Wall, The Big Wild Goose Pagoda and the Shaanxi Museum of History.
Riding and walking through history at the ancient city wall of Xi'an. Photos: J. Richelle Joe
Xi'an city wall was built during the Tang dynasty and is well intact.  We rented bicycles to ride  along the wall to enjoy views of the city.  The wall runs 9 miles around the city and takes about 1 hour and 15 minutes to ride around the wall.
Xi'an is a beautiful city, and we loved the juxtaposition between the old and the new.  It was great to bike around the city wall, knowing it is hundreds of years old, and to see high-rises and other new buildings around it.  We enjoyed the lights and the energy of the city, but could also feel a deeper sense of tradition and history there than in Beijing.
The Big Wild Goose Pagoda
An urn, the pagoda from below and the burning of incense. Photos: J. Richelle Joe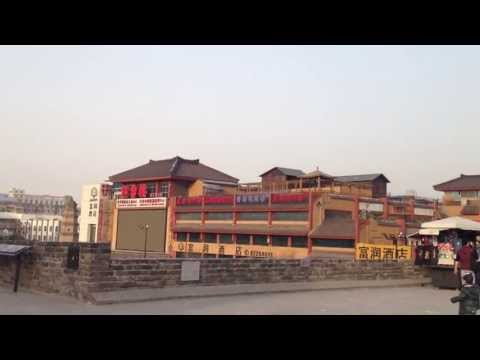 Video: J. Richelle Joe
Terracotta Warriors
One of the most fascinating sight seeing excursions was our visit to the three pits of Terra-cotta Warriors and Horses.  In the first pit, we saw about one thousand excavated and reconstructed warriors.  Each worrior had unique facial features.  Archeologists were busy excavating others as we stood watch.
We were able to experience the unveiling of history and although it is not yet the "eighth wonder of the world" as many refer to it, maybe one day it will be.
The Warriors were discovered in 1974 by three brothers, while digging a well on the farm.   They were buried there around 210 BC when Qin died.  Qin Shihuangdi, created the worriors and horses to protect him in his afterlife.  It is estimated that the pits contaitned 8,000 clay fired warriors.  The warriors were placed upright within the partitioned tunnels within the pit.  They stood  about 61/2 ' tall and their hollow bodies were supported by solid legs.
Shaanxi Women's Culture Museum
One of the most fascinating stops on our tour of Xi'an was the Women's Culture Museum on the campus of Shaanxi University. Filled will numerous artifacts, including  lotus shoes,women's artwork and bridal garments of the various ethnic groups of China, this museum illuminates the shadowed world of women in a culture dominated by men.
Through the exhibits, we learned about creative ways in which women asserted themselves, challenged gender norms and created a sense of solidarity in their communities. For instance, in times past, the Huian women have performed physical labor, such as building roads and irrigation systems while men raised the children. The stele in Chairman Mao's Memorial of Tian'anmen Square was built and carried by Huian women. Women also developed a unique script that allowed them to communicate in secret. One use of this script was the Handkerchief Script, with which they recorded poems and  sent messages to women within the sisterhood created by the script.
Chinese Calligraphy
During one of our cultural stops in Xi'an we participated in a calligraphy class. The instructor, the curator for one of the local art museums introduced us to Chinese calligraphy and allowed us to practice our writing skills. Our instructor told us that all Chinese characters are composed of 8 basic strokes, and knowledge of these strokes is essential for any student who wishes to write Chinese characters by hand. Our instructor told us that the basic strokes of writing are written from Left to Right, Top to Bottom and Outside then Inside. Chinese calligraphers used four basic tools to practice their art: ink brush, ink, paper, and inkstone, also known as the Four Treasures of the Study.
During our visit in Beijing we saw first hand "water calligraphy" done by some elderly Chinese people as form of exercise (last picture below).
• Diǎn, (點/点) "Dot"
• Héng, (橫) "Horizontal"
• Shù, (竪) "Erect"
• Gōu, (鉤) "Hook"
• Tí, (提) "Raise"
• Wān, (彎/弯) "Bend, curve"
• Piě, (撇) "Throw away, slant"
• Nà, (捺) "Pressing forcefully"
 A calligraphy lesson. Photos: Sean Bates
Shaanxi Normal University
Shaanxi Normal University is located in Shaanxi Province in Xi'an.  It was originally established as a teachers' college in 1944 but now offers a variety of degree programs.   SNU is part of China's Nation Project 211, and one of the 6 normal universities directly affiliated to the State Educational Ministry.  211 Project schools take on the responsibility of training four-fifths of doctoral students, two-thirds of graduate students, half of students from abroad and one-third of undergraduates.
The university contains 16 colleges and departments, 58 majors, 6 doctoral mobile programs, 2 postdoctoral centers of first rank discipline, 26 doctoral programs, and 95 master programs. It also has one national key discipline, 29 provincial key disciplines, 2 national bases of fundamental learning and personnel cultivation, 1 human science research base under Ministry of Education, and 46 other research centers.
The university actively carries out international cooperation and exchanges, and has built a relationship with 30 universities in 20 countries and districts, fostering nearly 3,000 foreign students. Facing the new century, SNU tries to take the opportunity of Western Development, enhances its teaching quality all over, increases its level of scientific research and social service, and strives for running SNU into a comprehensive and research-pattern university with a main feature of teachers education.
Our visit to SNU articulated why global education is important and how these cultural exchanges can effect teaching and learning. The senior leadership at SNU were very attentive to our request to talk to them about their teaching philosophy and shared with us their common issues with student learning.

At Shaanxi Normal University. Photos: Sean Bates
During our interviews with the students, two things stood out. First the students' level of English was not at the same level as the students from Beijing.  It was not clear why.  We could only assume it was due to less interaction with or opportunity to speak with native English speakers.
Second, many students in the Higher Education program were not sure of the potential roles they could have in higher education.  They viewed the master's program as an opportunity to receive a higher degree and become more competitive in the job market.  The students we spoke to did not know much about career options in the field.  During the interviews, we tried to explain the different career options in the US for students in this field and provide the students guidance on what they could do to learn more about the field and the opportunities that existed in China.  One student stated positions were limited and getting a job in Higher Education is difficult because of competition, their age, and the government appointments to many positions.  Those positions often require experience they do not have and they have no way of gaining.
Shaanxi Normal University recently started the Higher Education program and it is still developing.  The Dean is looking for ways to improve the program.  Currently, the program does not include an internship option.  An internship would allow students to gain the experience they need.  Although this would not solve the problem completely because the field is new in China.  The students will continue to face challenges in finding jobs.