Mental Health in China – By J. Richelle Joe
As a Counselor Education student, I viewed China through a counseling lens. I traveled with the distinct purpose of understanding the nature of the mental health profession in the country, wondering what commonalities existed between counselor education and practice in China and in the United States. Through the construction of this project I hope to provide an overview of the counseling field in China. I have drawn information about school counseling, college counseling and counseling psychology from research, print media and informal interviews.
Mental Health in the Mainstream
Prior to our arrival in China, I began to discover answers to some of my questions through  China Daily, a newspaper made available to me on the flight to Beijing. The front page included stories about economic concerns and international affairs, but there was also a cover story about suicide and depression in China. I was both surprised and intrigued to find such extensive coverage of this topic in a country where mental illness has been stigmatized and "saving face" prioritized (Lim, Lim, Michael, Cai, & Schock, 2010). According to the article, 287,000 people in China commit suicide each year with 70% of them doing so because of depression. Suicide is the leading cause of death among Chinese people aged 15 to 34. Less than two weeks prior to this article, a Beijing woman in her 20s announced her plan to end her life via a Chinese-run social media site, thrusting the topic of mental health into the mainstream.
Although there are considerably more Chinese citizens than qualified mental health professionals, Lim et al. (2010) noted that current and future trends indicate that China is becoming more open to the professional. Whereas psychologists and psychiatrists had been seen as counterrevolutionaries and were sent to labor camps during the Cultural Revolution, the profession is now acknowledged by the government. There is a National Counseling Licensing Board overseen by the Central Department of Labor, and there are graduate level degree programs and a licensing exam for mental health professionals working in community hospitals, with families or as school counselors.
I found evidence of this burgeoning acceptance of the mental health profession through both print media and informal conversations with the individuals in Beijing, Xi'an and Shanghai. Browsing through publications at magazine stands on Nanxing Road and in the Shanghai airport, I found prominently placed magazines devoted to psychology. Dialogues with students and faculty included open, frank conversations about mental health concerns in China and efforts that are being made to provide much needed services to the Chinese people.
Photos: J. Richelle Joe
School Counseling
At Beijing Normal University (BNU), Dr. Linyuan Deng discussed organization of the school counseling program of which she is a part. Founded in 2004, BNU's program is reported to be the first school counseling program in China. Its organization seems similar to the model advanced by the American School Counseling Association (see http://www.ascanationalmodel.org/). At the core of BNU's program is the social, academic and career development of students. The way in which school counselors support that development is through service to students, service to teachers, service to the school and service to parents. School counselors in China serve students through individual and group counseling as well as classroom guidance lessons. Additionally, school counselors consult with teachers, develop curriculum, assist with establishing school-wide goals and contribute to the construction of the school culture. To my surprise, school counselors also provide parent education and family counseling, extending the reach of the school counseling program into the homes of the students served within the school.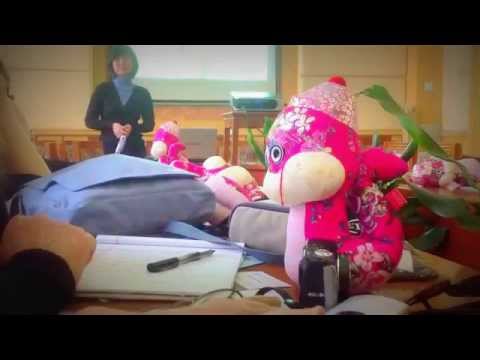 Video: Sean Bates; Editor: J. Richelle Joe
Dr. Deng shared research regarding the status of school counseling in China. According to her report, only one-third of Chinese schools have a full-time "mental health teacher" (a term that seems to be used interchangeably with counselor) and an independent department for mental health. In those schools where there are full-time personnel to fill this role, many are expected to address the concerns of their students without having received the proper training. Dr. Deng also shared that the focus of many school counseling programs relates to emotional regulation, learning and behavior management. In her opinion, programs need to focus more on career development, healthy relationships, coping strategy and parent engagement. Similar to school counselors in the U.S., Dr. Deng reported that mental health teachers are either valued or not depending on the leadership of the schools in which they work.
According to Jane and Yao, two students in Educational Sociology who remember having a counselors in their schools, there is still some hesitancy among students to talk with the mental health teacher. They reported two reasons why students are reluctant to seek about mental health services. First, the sense of stigma surrounding mental illness prevails, even among children and adolescents. Students might feel as though they will be judged for going to the mental health teacher. Second, students are skeptical that what is shared in the counselor's office will remain there. Describing counselor preparation, Dr. Deng clearly stated that the school counselors in China adhere to a code of ethics and are bound by it to maintain confidentiality. The only exceptions she sited were those much like the exceptions in the U.S. – in cases of self-harm or a clear threat to another person.
Mental Health in Higher Education
In my conversations with students at universities in Xi'an and Shanghai, I heard similar comments regarding stigma and confidentiality. There are mental health services available in institutions of higher education in China; however, their structure and implementation seemed vague. What was clear was that universities require all freshmen to complete a mental health assessment upon matriculation. The students receive the results of this assessment and then have the opportunity to seek services if they so desire. I got the impression that each school retains a copy of the assessment results for each student, but there was uncertainty regarding where that information was kept or for what purposes it was used. Whatever mental health center exists on campus assists students with small problems, and any major problems are referred to off-campus agencies. There was a consensus among the students that most students try to address any emotional or psychological concerns on their own, only seeking support from close friends or family members. Again, to save face, students often keep secret any problems they are having, although more and more students are beginning to reach out for help.
When asked about addictions or addictions counseling, the students did not seem to have much to say. They even indicated that addictions, to either drugs or alcohol, were not concerns in China. Katharine Sperandio seemed to learn something different during her travels in China. Visit her page for more information about this topic.

Cultural Considerations
 Throughout our travels in China, I became acutely aware of the cultural norms, values and beliefs steeped in Chinese tradition and history. The ethics of Confucius, the importance of collectivism, and the value placed on family were evident in the universities we visited, the casual conversations we had and the cultural sites we admired. Any movement of the mental health profession would be remiss if it were to ignore the strongly-held identity of the Chinese people. Counselors, psychologists and psychiatrists in China are wise to shape their practice with great consideration of the distinct culture and history of their people. A conversation I had with a counseling psychology student at
East China Normal University
illuminates this point. This student, who calls herself Echo, discussed the challenges she has faced in her research concerning Employee Assistance Programs. In her research, she is attempting to gather feedback from employees to improve organizations and their working conditions. The challenge she faces is that employees are hesitant to speak critically of their employers or of the organizations for which they work. Echo explained that in China great importance is placed on relationships, and they people will act in ways that will ensure that relationships will be maintained. What this has meant for her work is that employees fear that their responses will not be kept private, and that any negative comments would damage their relationships at work. When I asked Echo how she might be able to overcome this challenge, she talked about intentionally acting to build trust with the employees. She mentioned the possibility of having lunch with them and making several visits to the site to warm-up to the employees. Echo also mentioned that this process of "warming-up" might be helpful for individuals in China who are seeking mental health support. Whereas in the U.S. we expect our clients to speak to us minimally on the phone before appearing in-office for an appointment, Echo suggested that Chinese people may prefer to speak with a professional on the telephone a few times before being seen in person. In her opinion, to save face, clients would engage in what would seem like anonymous telephone counseling. This is a unique way to build trust and establish the therapeutic relationship that seems culturally relevant in China.
Present and Future Considerations
China has experienced tremendous economic growth and global prominence in the past decade. Its emergence during the 2008 Olympics confirmed its place among world leaders. As China opens itself to influences from abroad, the mental health field will likely expand to meet the pressing needs of a large population. Lim et al. (2010) proposed the possibility that China would be a leader in this respect. A strength of the field in China is its ability to adapt the theoretical models of western nations to fit the cultural norms and values of the east. For instance, despite their emphasis on individualism, cognitive and behavior therapy models have been popular in China where brief, practical forms of counseling are valued (Lim et al., 2010). Additionally, family counseling approaches such as those advanced by Virginia Satir and Slavador Minuchin are prominent in counseling preparation programs in China (see video above). Of particular note is the way in which Chinese practitioners have embraced an ecosystemic approach to psychotherapy which aligns with the holistic, collectivist worldview held by many Asian nations (Lim et al., 2010).
The future of the mental health field in China seems promising. Leaders in the field are examining prominent approaches to counseling to determine the ways in which they can best serve the Chinese population. They are also contributing innovative approaches that suit the unique cultural needs of the people. The incorporation of family counseling into the school counseling model is an example of this innovation. China has learned a great deal from the west. It seems likely that the reverse will be true in the next decade as new ideas emerge from the east.
References:
Lim, S-L., Lim, B., Michael, R., Cai, R., & Schock, C. (2010). The trajectory of counseling in China: Past, present, and future trends. Journal of Counseling & Development, 88, 4-8.
Cang, W., & Song, W. (2013, February 27). Dark days of despair drive many to the final option. China Daily, pp. 1, 6.